Since its inception in 1905 the Geophysical Laboratory has been a leading center for experimental research in petrology and geochemistry.  Under the leadership of it first director, Arthur L. Day, the Laboratory began developing new high-temperature and high-pressure technologies, applying them to understanding the formation and evolution of igneous rocks.  Contributions by such renowned staff members as N. L. Bowen, H. S. Washington, and G. W. Morey quickly established the Laboratory's reputation.  In the 1910s and '20s, field investigations in volcanology and seismology began to supplement the Laboratory's experimental work.  Crystal structure determinations using x-ray diffraction were initiated in 1919 under R. W. G. Wyckoff.
Upon Philip Abelson's arrival as director in 1953, the Geophysical Laboratory helped to establish the new discipline of biogeochemistry.  Another new field – mineral physics – expanded rapidly at the Laboratory in the 1970's and 80's.  In the 1990s, its research scope expanded to astrobiology and materials physics, with a focus on extreme environments.
This site, originally prepared for the Laboratory's centennial in 2004 by Jennifer Smith, highlights some of the notable scientists and research programs from the Laboratory's early years, as well as a timeline of noteworthy events spanning its first century.  Unless otherwise cited, all photographs are from the Geophysical Laboratory's Archives.  Special thanks is owed to the following individuals for their assistance: Shaun Hardy, John Strom, Ann Mulfort, Jennifer Snyder, Merri Wolf, Garret Huntress, and Katy Johanesen.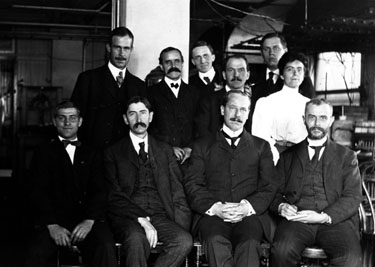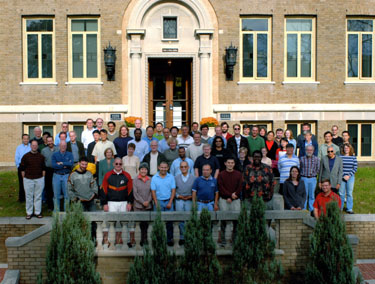 Directors of the Geophysical Laboratory
Arthur L. Day (1907-1918)
Robert B. Sosman (Acting Director, 1918-1920)
Arthur L. Day (1920-1936)
Leason H. Adams (Acting Director, 1936-1937; Director, 1938-1952)
George W. Morey (Acting Director, 1952-1953)
Philip H. Abelson (1953-1971)
Hatten S. Yoder, Jr. (1971-1986)
Charles T. Prewitt (1986-1998)
Wesley T. Huntress, Jr. (1998-2007)
Russell J. Hemley (2007-2013)
George D. Cody (Acting Director, 2013-2018)
Michael Walter (2018-  )